Titan Fuel Tanks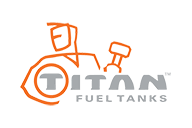 Address
5020 North Haroldsen Drive
Idaho Falls, Idaho 83401 USA
This manufacturer has a dealer locator.
External Links
About
---
Titan Fuel Tanks was started in 2003 in response to the voices of diesel truck owners who wanted to go farther– longer. Without fear, they wanted to be able to go where the nearest fuel station might be hundreds of miles away. Anyone who has towed a trailer knows what it does to your mileage know how far it will be until the next station, you will often end up at overpriced stations that know they can gouge you and get away with it.
Our goal was simple; design a lightweight tank that would fit each vehicle perfectly, not impact cargo space and provide up to double a pickup's fuel range. The tank had to operate without interfering with any functional parts of a vehicle, including the hitch, and – the real kicker – it had to look good. Because the last thing we want is to make your vehicle something you would be less proud of.