TEN Factory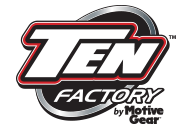 Address
1001 West Exchange Ave.
Chicago, Illinois 60609 USA
External Links
About
---
Welcome to TEN Factory. Some of you may know us as the core group that has been manufacturing and distributing High Performance Alloy Axles and Axle Kits for over a decade. Others may know us as part of Midwest Truck and Auto Parts' Motive Gear division. One thing you need to know is:
TEN Factory is the brand you can trust for High Quality, properly engineered drivetrain solutions. See us at a show, at the track or on a trail and we'll be happy to show you what makes the difference in quality and strength. If you can't get to an event, shoot us an email with your questions.
Warranty Information
---
Midwest Truck & Auto Parts Inc. warrants that all new TEN FACTORY axle shafts, except as otherwise provided herein, will be free from defects in material and workmanship for the first 10 years, or 100,000 miles, whichever occurs first. ALL other TEN Factory products carry a 1 year, 10,000 mile warranty. THIS WARRANTY WILL NOT APPLY IF ANY PART HAS BEEN MODIFIED, DAMAGED OR IS DEFECTIVE AS A RESULT OF ANY ACCIDENT, MISUSE, IMPROPER INSTALLATION, NEGLIGENCE, REPAIR OR ALTERATION.
IMPLIED WARRANTIES, INCLUDING WARRANTIES OF FITNESS FOR A PARTICULAR PURPOSE, ARE EXCLUDED; THE ENTIRE RISK AS TO THE QUALITY AND PERFORMANCE OF SUCH PARTS IS WITH THE BUYER. SHOULD SUCH PARTS PROVE DEFECTIVE FOLLOWING THEIR PURCHASE, THE BUYER AND NOT THE MANUFACTURER, DISTRIBUTOR OR RETAILER, ASSUMES THE ENTIRE COST OF ALL NECESSARY SERVICING OR REPAIR.
THIS WARRANTY IS ONLY AVAILABLE TO THE ORIGINAL BUYER OF THE PART, AND IS NON TRANSFERABLE.
To make a warranty claim on parts, distributors should contact Midwest Truck & Auto Parts Inc., and individuals should contact their Midwest Truck & Auto Parts Inc. distributor for a returns Goods Authorization (RGA) number. No returns will be accepted without an RGA number. All parts should be returned to Midwest Truck & Auto Parts Inc. freight prepaid. Midwest Truck & Auto Parts Inc. will issue credit equal to the original purchase price for all defective parts covered by this warranty. In the event that a warranty claim cannot be substantiated by Midwest Truck & Auto Parts Inc., the parts will be returned to the customer freight collect.
THIS WARRANTY IS IN LIEU OF ALL OTHER WARRANTIES, EXPRESSED OR IMPLIED, INCLUDING BUT NOT LIMITED TO, ANY IMPLIED WARRANTY OF MERCHANT ABILITY OR FITNESS FOR A PARTICULAR PURPOSE, AND IN NO EVENT WILL MIDWEST BE LIABLE FOR INCIDENTAL, SPECIAL OR CONSEQUENTIAL DAMAGE, INCLUDING, BUT NOT LIMITED TO, ANY LABOR COSTS.