Cometic Gasket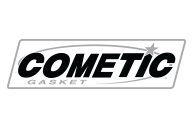 Address
8090 Auburn Road
Concord, OH 44077 USA
About
---
FAMILY OWNED
All Cometic products are made in the United States with materials manufactured on American soil.
Launched by four partners including current Founder and CEO Bob Gorman in 1989, Cometic was originally dedicated exclusively to the powersports industry. Operating from a tiny 1,500 square foot manufacturing facility, the company produced a mere 900 SKUs in its first year.
The company is now wholly owned by the Gorman family - and has grown into a global leader and innovator in the highly competitive engine supplier marketplace.
STATE-OF-THE-ART TECHNOLOGY
Housed in a 70,000 square-foot, state-of-the-art R&D and manufacturing center in Concord, Ohio, Cometic Gasket has maintained its deep roots in the powersports industry while expanding to service the Domestic Automotive, Sport Compact, V-twin, Marine, Diesel, Agricultural, Industrial and Stationary Power markets.
Today, Cometic Gasket offers over 85,000 SKUs, shipping gaskets and engine sealing solutions across the globe.
CUSTOMER DRIVEN
Cometic is dedicated to customer satisfaction and provides quality products, delivered on time at a competitive price, designed for each customer's specific application. Cometic is an industry leader in manufacturing processes and committed to pairing the highest possible quality materials with knowledgeable personnel. Cometic is also dedicated to continually improving all areas of its operations through employee development and involvement, as well as continual and comprehensive reviews of customer feedback.
To ensure superior performance across a wide variety of engine types and sizes, Cometic manufactures gaskets from a comprehensive range of materials. Whether the situation calls for the latest in advanced technology like the MLS (Multi-Layer Steel) Gasket, or a synthetic blend such as Aramid Fiber, Cometic finds a solution. Cometic stays on the forefront of gasket design technology by utilizing in-house dynamometers and engine assembly rooms to bring its distributors, retailers and ultimately the end-user, the most reliable gaskets available today.
Cometic combines advanced materials with the most current manufacturing processes to provide custom-tailored solutions to meet the needs of each individual customer. Engineers analyze the environment in which the gasket will perform, select the proper material, and apply the appropriate technology to offer the best-performing gaskets available in today's ever-changing marketplace. Cometic gaskets are the industry standard for championship-winning teams across multiple disciplines of both professional and amateur motorsports.
Warranty Information
---
WARRANTY DISCLAIMER
Due to the nature of the performance applications, the parts in this catalog are sold without any express warranty or any implied warranty of merchantability or fitness for a particular purpose. Cometic Gasket Inc. shall not, under any circumstances, be liable for any special, incidental or consequential damages, including, person, party, or property, but not limited to, damage, or loss of property or equipment, loss of profits or revenue, cost of purchased or replacement goods, or claims of customers of the purchase, which may arise and/or result from sale, installation or use of these parts. Installation of these parts could adversely affect the motor manufacturer's warranty coverage.
Venue
Terms
Returns
VENUE
The agreed upon venue, in the event of any dispute whatsoever between the parties, whether instituted by either party, including, but not limited to, contract terms, payment terms, delivery, type, defects, sufficiency of product, shall be the Court of Common Pleas, Lake County, Ohio or the Painesville Municipal Court, Lake County, Ohio, depending on the amount in controversy. This agreement shall be governed by and construed under the laws of the State of Ohio.
All prices and terms are subject to change without notice.
TERMS
VISA and Mastercard accepted. COD-Company check with a current credit card number on file. Open accounts may be established by well rated firms. A credit application is available upon request. Open accounts are due payable Net 30 days from date of invoice. No statement will be sent. If account becomes 60 or more days past due, it is subject to being placed on credit hold. No orders will be shipped or new orders accepted until past due balance is paid. If an account becomes 90 or more days past due, it is subject to being placed for collections. All costs of collection are the responsibility of the customer, including attorney fees, court costs, and other expenses of litigation.
RETURNS
Authorization (RGA) must be obtained in advance on all returns. A packing slip or invoice must accompany the merchandise. No returns after 30 days from invoice date. All returns subject to a 25% restocking charge. All custom designed and custom manufactured gaskets are non-returnable.
Only catalog parts are returnable.
Review your invoice and notify us immediately of any incorrect or inaccurate information. Shortages must be reported within 10 days.